Read All of This Carefully.
Prices
Donation
your support helps me focus on making content for everyone to enjoy.
The Archive
Most of my personal work + some commissions from late 2017 to present. Over a gigabyte of content.
Basic Sketch
$30
I am not accepting art direction on these. no exceptions.
a nude head to toe reference is required.
these are simple, solo, nude/simple clothing pinups. I choose the clothing.
character restrictions
I will not accept characters with
Large Wings

Hyper Genitals
I will omit
stripes,

crossfades

spots

patches

complicated symmetrical symbols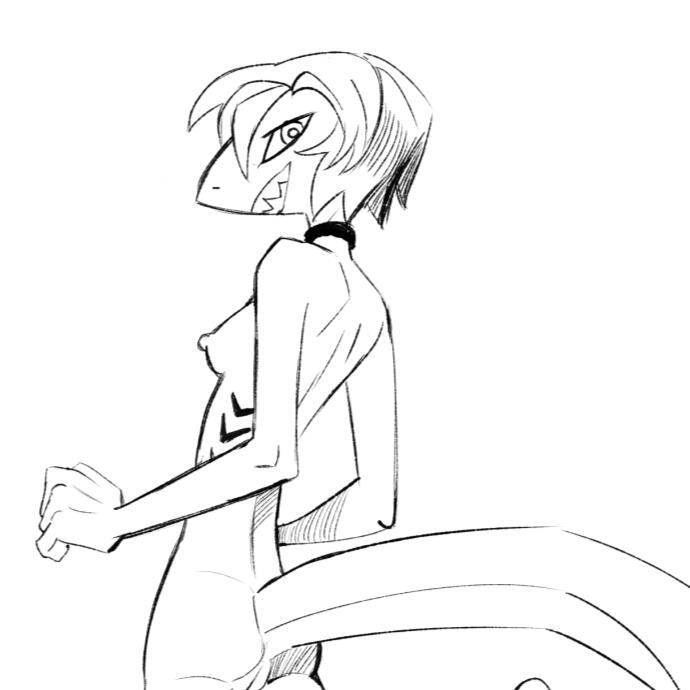 I don't want picky clients. I'm not interested in being art directed too much.
I won't draw these topics under any circumstances
underage

scat

vomit

vore

granny kink

hyper

foot fetish
---
Service Agreement
I create custom images for individuals, according to directions provided by the customer or according to the creative freedom granted to me by the customer.The customer agrees to the followingTo not distribute or sell the work created for them by me for profit or commercial purposesTo not use the artwork in the minting or association with the minting of any NFT or blockchain ledger based entity.To not print or display the work for profit or commercial purposesThe customer does not own full license to the work.The customer owns the license to distribute the image digitally, for free, on their personal website, social media, and to print the work for private display, or public display, as long as it is for non commercial or non profit useI, the artist, own the license to distribute work I create for the customer to display online for marketing purposes, and to print the work for marketing purposesI, the artist, do not own any license to the characters depicted in the work, only to the work itself
---
TERMS OF CREATIVE FREEDOM
You give me permission to alter your character in any way I see fit to make my job easier. I will generally try to stick to their original design, but I may omit or alter certain details, such as complex fur patterns.I will not alter the character's gender presentation, their sexuality, or their body type.These terms are not a guarantee that I will accept any complicated character for a commission.
---
Warnings and Refund Policy
If you are unsatisfied with your commission, I cannot help you.
If you arrive at my storefront unaware of what I do, how I draw
and my sensibilities, I cannot help you.I HAVE ADHD.
If you expect a specific turnaround time on any given commission, you must not commission me.Once paid for, this service is non refundable.
If this potential situation is disagreeable to you, do not commission me.
---
If you do not agree to the above terms and conditions, I do not consent to work for you.
Order Form
If you don't hear from me within 24 hours, check your spam.

Altneratively, add calmnivorecomms@gmail.com to your contacts or a filter

After I receive your submission, I'll review your reference and notes.

If I accept the commission, I'll reply informing you that the invoice has been sent, or I will reply asking for more details.

If I don't accept your commission, I'll reply informing you that I am not interested.

Payments are processed through stripe invoice.
I do not do business through twitter dms or discord dms.
---
Queue
---
Changelog
---
2022/11/14
removed all options except for basic sketch.
altered information section.
changed the form field "handle" to "username".
added archive download link.
---
2022/08/13
completely revamped site and changed prices
---
2022/07/22
Added Client Pitch page
Removed traditional sketch page option
Changed home page to column of buttons
added patreon and kofi buttons in header
---
2022/06/11
added client control page
changed info on digital flat pinup page
---
2022/06/02
added a tip button and some extra info about tipping on all the price info pages
---
2022/04/11
changed the layout of the site
terms and price buttons only on the header
everything else went to the footer
changed the way the images and text align on the prices page
removed the content warning page
prices is now the home page
---
2022/04/07
changed the form recipient email back to calmnivorecomms@gmail.com
---
2022/02/24
changed terms of creative freedom description to reflect cost requirements of client controlclarified the description for experimental pwyw tierclarified descriptions on other tiers to reflect requirement for a full character referencemade the text for the character design tier bigger
---
2022/01/29
fixed spreadsheet schedule iframe display
removed trello checkbox from forms
---
2022/01/19
price for fancy painting increased from $200 to $250
edited on 2022/02/24 to specify original and new price
---
2022/01/17
new spreadsheet iframe to show estimated commission completion schedule here
---
2022/01/04
commission tracking - users can opt in to get invited to a trello board to track commissions. email me if you are currently waiting and want an invite.
design to spec - changed prices, added forms
digital sketch -added sketch page option
---
got a question about commissions that aren't answered by the site? just shoot me an email with the form belowSTOP!
Did you read the terms? Did you read the details on each tier? If not, go do that, then come back here.
Also, if the site sucks ass and is confusing, then let me know so I can try a different approach.
Submission Successful!
If you don't hear back within 24 hours, check your spam.
make sure to add calmnivorecomms@gmail.com to a filter or your contacts to keep it from going to spam.